Microsoft Teams is available for download on a computer (Windows or Mac), phone, tablet or can be accessed as a website.
Accessing Teams in Your Web Browser
**Please note that Teams meetings are often unsupported by common web browsers, therefore if you need to join a Teams meeting, you will need to download the Teams Desktop or Mobile App. See the Teams Mobile and Desktop App section on this page for more information.
Once signed into the NSCAD Office 365 webmail (https://outlook.office.com/mail) you can click the "waffle" to see all the Office 365 apps that are available. Look for the Teams icon and click on it: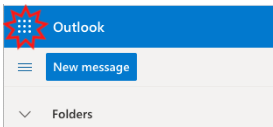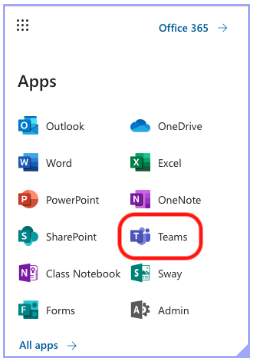 Teams Mobile and Desktop App
Most users will find the Teams Mobile App or Desktop App more user-friendly than the online version, and in some cases, even necessary for supporting Teams meetings functionality.
To download the Teams App on your devices, see the following link:
https://products.office.com/en-ca/microsoft-teams/download-app