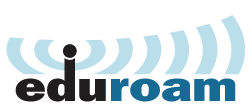 eduroam is a secure, worldwide roaming access service that allows students, researchers and staff from participating institutions to get internet connectivity across campuses and when visiting other participating institutions. Using your NSCAD credentials, you can get connected at any of the 17,000 + eduroam sites across the globe. For more information on eduroam, visit https://www.eduroam.org
NEW: For maximum security, all users MUST configure to connect to eduroam using the geteduroam app for mobile devices or the configuration tool for laptops. These basic configuration steps can be performed from anywhere so that your device is ready to connect the moment you arrive on campus.
CONNECTING TO EDUROAM FROM A LAPTOP:

Go to cat.eduroam.org, select "Nova Scotia College of Art & Design (NSCAD University)" from the institution list and then download and run the eduroam installer.
**MAC USERS: you will be installing a profile in your Mac's System Settings, which is fairly simple but can seem a bit confusing with all the system prompts. Please follow our step-by-step visual guide to make the process a bit less cumbersome.
CONNECTING FROM A MOBILE DEVICE:
Download and install the geteduroam app. The app is available for Android, Windows and iOS devices.
CLICK HERE TO VIEW A QUICK INSTRUCTIONAL VIDEO ABOUT BOTH THE MOBILE APP AND THE CONFIGURATION TOOL FOR LAPTOPS